Check out our #1 Best-Selling Book!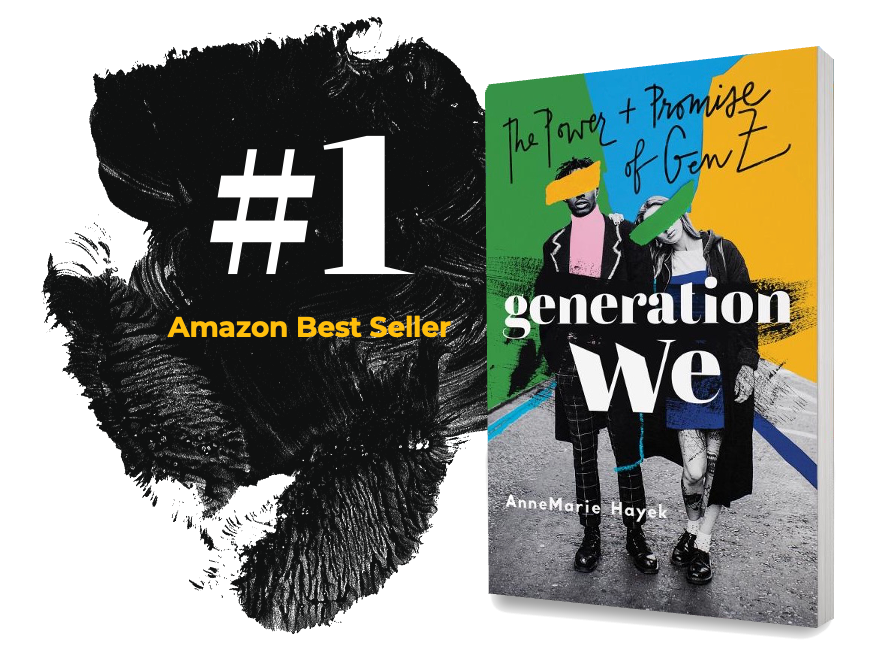 Published August, 2021
1000+ hours of research over 3 years
Collected data from 10,000 Zs across the U.S.
1,000+ Zs interviewed globally
Ongoing weekly polling and social scraping
There's not a more important read at this moment than Generation We, AnneMarie Hayek's tour de force reflection on Generation Z. AnneMarie applies the rigor of a disciplined researcher to unpack insights into this fascinating cohort that is so vital to the future of both the planet and civilization's social fabric. It is written with soul and clarity by a gifted storyteller. The ambitions, ideas, pain and hope in the voices of those whom AnneMarie interviewed merit contemplation long after the last page of Generation We is turned. The immediacy and the enduring nature of the challenges and opportunities in front of Gen Z are brought into sharp relief in Generation We. The impact on the reader promises to call for contemplation and, as AnneMarie acquaints us with Generation We more intimately, to inspire genuine hope for the future.
Bob Raidt, Managing Director, Accenture Interactive
It's easy to dismiss the upcoming generation for their TikTok obsession and their Pollyanna activism, but do so at your peril, says social scientist and cultural consultant AnneMarie Hayek. This generation means business. They don't like how their elders are treating the earth, politics, or each other, and as teenagers and young adults – the oldest is 25 – they are already pushing to demolish the status quo. Hayek has done a masterful job at explaining the distinctions and defining characteristics of Gen Z, making this a must-read for leaders who want to earn the business, the votes, and the trust of youth today, a cohort of remarkably connected, inclusive, fair-minded, can't-wait movers and shakers. Hayek certainly makes the case for embracing the next generation, and even being grateful for them.
Amy Eskind, Journalist, published in Washington Post, LA Times, People, People.com & NPR
AnneMarie's depth of work in the Gen Z space is extraordinary – she is one of the rare people who really gets Gen Z, breaking through the myths, and helping companies, organizations, governments and our society as a whole understand what must change to successfully meet the challenges and opportunities we, and this unique time in history, are demanding.
Evan Malbrough, 25, political organizer, writer and commentator

Leading the Gen Z Narrative
We are at an inflection point and poised for change; things are not going back to how they were, and Zs are already leading the trajectory on what our future will look like.  They're evolving our cultural norms and priorities and upping the ante on what is required from our corporations and governments.  They're changing the conversation and how we think about the climate/sustainability, capitalism, gender, diversity/inclusion, politics and work. As leaders in business, education, government, or even as parents, we need to listen or we will be left behind.
WHAT WE DO:
Customized Gen Z research (qualitative & quantitative)
48-hour turn-around on custom quant Qs using Z mobile platform
Facilitate Gen Z panels (one-time or ongoing) 

Access to team of 100+ Gen Z Ambassadors for consulting/co-creation

Custom speaking/keynotes and/or advisory

Modules (prepared or custom)

Proprietary data on what Zs really want (in climate/sustainability, gender, diversity/inclusion, fashion, food + many other topics)
WE'RE PASSIONATE ABOUT SHARING THIS LEARNING. 
HAVE A QUESTION? 
INTERESTED IN WORKING TOGETHER? NOT SURE WHERE TO START WITH GEN Z? 
BE PART OF THE CONVERSATION